8 Steps to Landing Your Dream Job
8 Steps to Landing Your Dream Job
Guest post by Kristie Purner.
Is your company downsizing? Perhaps the new manager they hired at work
is driving you crazy. Maybe you just feel like it's time for a
change. Whatever the reason, it's easy to feel overwhelmed when it's
time to look for a new job. But having a proven game plan makes it
easy. Whether you are looking for a new job or just starting out your
career, here are eight steps to finding your next job.
1) Update your resume. A well-organized, relevant resume will set you
up to get an interview, while a poor resume will get completely lost
in the sea of applicants. If it's been years since you have updated
your resume, now is the time. One of the best pieces of advice I can
give is to hire an expert to write your resume for you. Let's face
it, you probably are not the best writer. Resumes help you to make a
favorable impression on a prospective employer. So it's important that
the employer feel enticed enough to call you to find out more about
your qualifications.
2) Start searching for jobs. In order to find a job, you have to
actively look. Job Search Engines like Indeed, CareerBuilder, and
Monster are a great place to start. Look for local job fairs where
you can meet companies who are actively hiring. Visit the website of a
company you'd like to work for and check the Jobs page to see
positions they are hiring for. Another option is to connect with
recruiter and headhunters who can find a job for you. Finally, there
are millions of postings on LinkedIn for jobs.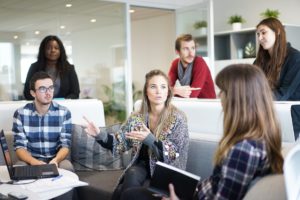 3) Check your social media profiles. Fact: 70 percent of employers
use social media to screen candidates during the hiring process to
evaluate your character and personality. That means that it's really
important to review your social media accounts. Remove anything that
might be seen as offensive or inappropriate. You don't want a
provocative or inappropriate photo or heated politican debate to blow
your chances of getting hired. Watch your grammar and spelling too.
4) Update your LinkedIn. Your potential new boss is going to check
out LinkedIn too, so polish off your profile. Make sure your headshot
is recent. Add some posts that show your thought leadership on your
area of expertise. Check to see if your employment history is up to
date. Ask business clients and colleagues who love you to write a
recommendation. Update your career interests on LinkedIn. Did you
know that simply changing your LinkedIn headline can seriously help
you find a great job? Say something that makes you stand out and gets
the hiring manager to click your profile. Instead of "Personal Chef –
Chef to Go" use a headline Something like: "Personal Chef Specializing
in Keto diets".
5) Apply for suitable jobs. Set aside time in your calendar that you
dedicate to applying for jobs. Decide what kind of job you want. Look
for job titles that are a match for your ideal job. Do research about
the companies you are interested in to make sure it's an ideal work
environment and acceptable commute for you. Have a resume and your
cover letter ready. Gather a few people willing to serve as
references for you. Let them know in advance you have listed them as
a reference. You'll need a pdf to upload to websites. You can use the
rich text file to copy/paste information into job application forms on
company websites. Tweak your cover letter to be a perfect fit for the
job you are applying for. Keep track of where you apply to and follow
up. You don't want to be surprised if a potential employer calls and
you don't remember applying for the job.
6) Brush up your Interview Skills. Research the most asked resume
questions. Practice interviewing with a friend. Find a job search
coach who offers mock interviews. Practicing will help you feel more
confident and craft answers to tough questions so you don't fold under
pressure when you land the big interview.
7) Network. At least 60% – some report even higher statistics – of all
jobs are found by networking. It helps you make contacts and build
relationships that can lead to jobs or other work-related
opportunities. The people in your network can help you obtain leads,
referrals, advice, information and support. Contact everyone you know
and let them know you are hunting for a job. Remember FRANK (Friends,
Aquaintances, Neighbors, and Kids). Reach out to them with an email,
a phone call, or a private message on social media. Visit your local
BNI group or Chamber of Commerce. Put together a 60-second
introduction that reveals what job you are seeking and why they should
hire you. Always thank others in advance for any connections,
information, or help they can provide.
8) Rock your interview and get the job! You got the call from your
dream job inviting you in for an interview. So how do you prepare so
you can ace it? Do your homework. Develop short stories to share
that illustrate points about your accomplishments. Facts tell, but
stories sell! Have questions prepared that you would like to ask the
employer in the interview. Get directions in advance and find out
where to park. Be early, but never too early. Dress sharp and
professional. Give a firm (but not too firm) handshake. Put your
phone on silent and keep it put away. Bring a copy of your resume and
references. Let your personality shine and build rapport. Employers
want to hire candidates with a great skill set and will be a culture
fit for the team. And finally, relax…. When you look and act the
part, you'll be at such an advantage that the rest of it will come
quite easily.
Follow these tips and you'll be on your way for the big interview for
your dream job. Good luck in your job search!
Kristie Purner is the publisher of multiple books, has been featured in numerous articles and appear on national television programs. If you are interested in resume writing assistance, you can reach her at [email protected]